11 types of pages you need to have on your commercial cleaning website
by

Mike MacDonald

Sep 20, 2021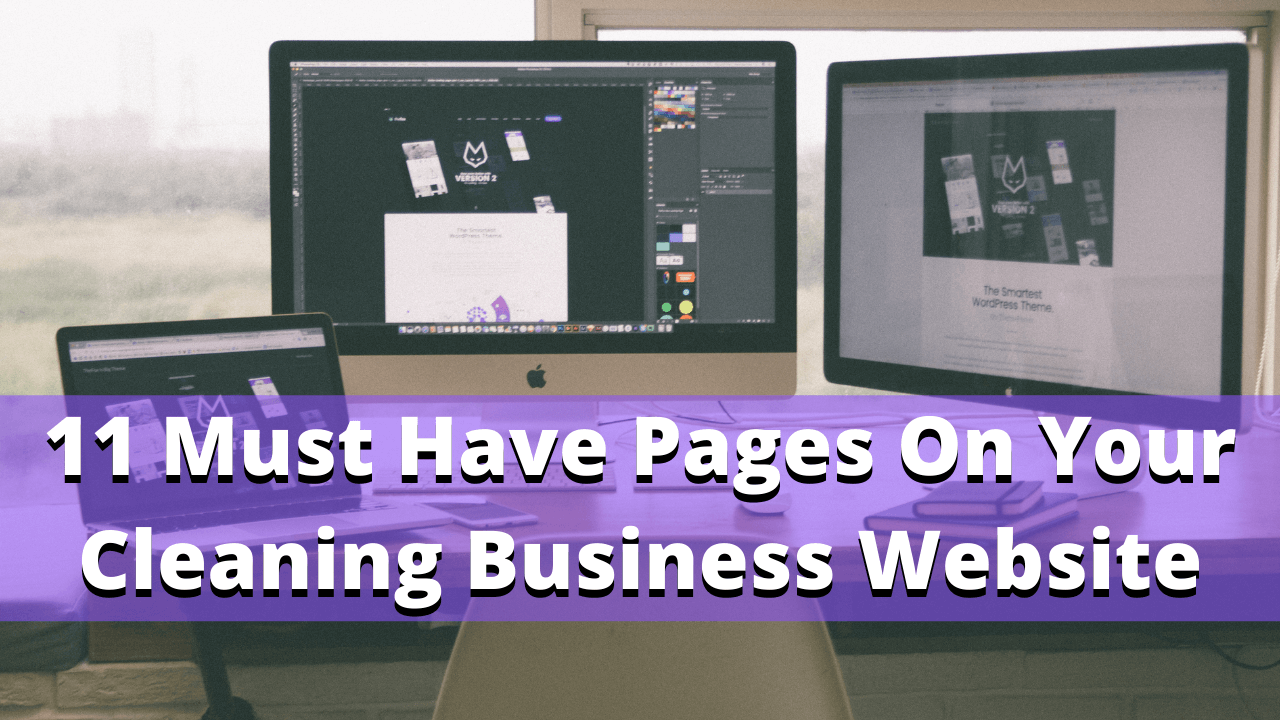 When it comes to building a successful commercial cleaning website there are a few key aspects you want to include. You need your site to make your company look professional, portray credibility, and attract new visitors. If your commercial cleaning website has the pages we cover in this post, you can accomplish each one of those. In this post, you'll learn 11 types of pages you need to have on your commercial cleaning website to maximize your results.
1. An Optimized Home Page
The first step to building a successful cleaning company website is to create an attractive home page. For most people, this is going to be the first impression they have of your business.
One aspect of this good first impression is that you want your page to load quickly. Often we see websites that have way too much happening on their home page. Things like sections floating in randomly, a header with lots of images, or too much irrelevant text.
Typically we recommend using a static image for the header or a short video that is less than 30 seconds. If you use a lot of images, or an extensive video it can slow down the site load times dramatically. Not only will that hurt user experience, but search engines don't like it either. This can cause your site to not rank as well.
Another aspect to optimize is your messaging. You want to focus on using benefits-based messaging not features-based. Commercial cleaning is often pretty straightforward, so only listing features of your service isn't enough to separate you from the competition. Instead, you should talk about the benefits behind the features of your service to help convince people to hire you.
Also, try and use real photos of your employees and processes. Using real photos builds more trust and credibility. However, you need the photos to be high resolution, in focus, taken horizontally, and if possible telling a story. Action shots work well and you want people to instantly know what service the picture represents.
Many companies have an about page, but usually, it just lists when the company was founded. An about page is a great place to really tell your story and the "why" behind your cleaning business.
People will buy into your story more than just the features of your cleaning business. Your about page is a chance to share with potential customers why you are passionate about commercial cleaning, and to highlight some of your core differences in the marketplace.
Another aspect you should include on your about page is some employee photos. When someone hires a commercial cleaning business they are allowing complete strangers into their business.
There could be valuable equipment, inside information, worries about things being stolen, and more. Because of this, you need to build trust in your company and staff with your website. Using employee photos and team photos can help build trust and put a face to your company.
You can also talk about things like your hiring process and training. Things like you do extensive background checks and require high-level training for your cleaning technicians. Talk about your company on your about page and include information on why people should hire you vs the competition.
3. Estimate Request Pages
Now, this type of page is pretty obvious, but you should have more than one estimate request page depending on the services you are offering. This is especially true if you are running any kind of paid advertising.
You can get by with just one estimate request page, but when you only have one page, it makes tracking results from your marketing much more difficult. Ideally, you want to have an estimate request for each specialty stand-alone service and for any paid advertising campaigns you are offering.
For example, if you offered carpet cleaning as a service in addition to general commercial cleaning you should have a separate estimate request form for carpet cleaning. The reason for this is because when you run paid ads, or do any kind of marketing strategy promoting your services you want to know what is working and what isn't.
If you only have one estimate request page and you are running Facebook ads, Google Ads, posting on social media, and sending people to several pages on your site, it can be hard to separate what activity caused the actual estimate request.
Plus, when you know what specific service a lead is looking for, it is easier to give them relevant offers without wasting time on services they won't be interested in.
Another often overlooked type of page you should include on your commercial cleaning website is the thank-you page. There are several reasons you should include thank-you pages on your website. Probably the most important reason is tracking.
Usually, we see cleaning businesses that have estimate request forms that don't direct to a thank-you page after submission. They either show a popup confirming submission or nothing happens. Having a popup is better than nothing, but you want to instead redirect to a thank-you page after submission.
When you redirect to a thank-you page, it is easier to set up conversion tracking, and if you are running paid ads, you can build audiences based on those page visitors. It also allows you to exclude those audiences from your advertising so you aren't showing ads to people who have already requested an estimate or hired you.
Another benefit for tracking is that if you have multiple custom conversions set up with different thank you pages you can track specific service estimate requests. For example, you might be running Facebook ads for carpet cleaning which brings people to your site, but they explore a bit and request an estimate for general cleaning instead.
With separate thank-you pages and custom conversions, you could know that your carpet cleaning ad resulted in a general cleaning estimate making your ads more successful.
In addition to having estimate request pages, you'll also want to have a general contact us page. Not everyone who visits your website for the first time is going to be ready to request an estimate.
Not to mention, some people who visit your website might already be customers that are trying to reach someone at your company. In addition to that, some people visiting your website might have additional questions they want to ask before they request a quote.
When you include a contact us page on your website it can help you generate more potential leads than when you just have an estimate request form alone. Also, make it a habit of responding to your contact page submissions in a quick manner.
Many people are going to base whether they hire you or not based on the responsiveness of your company.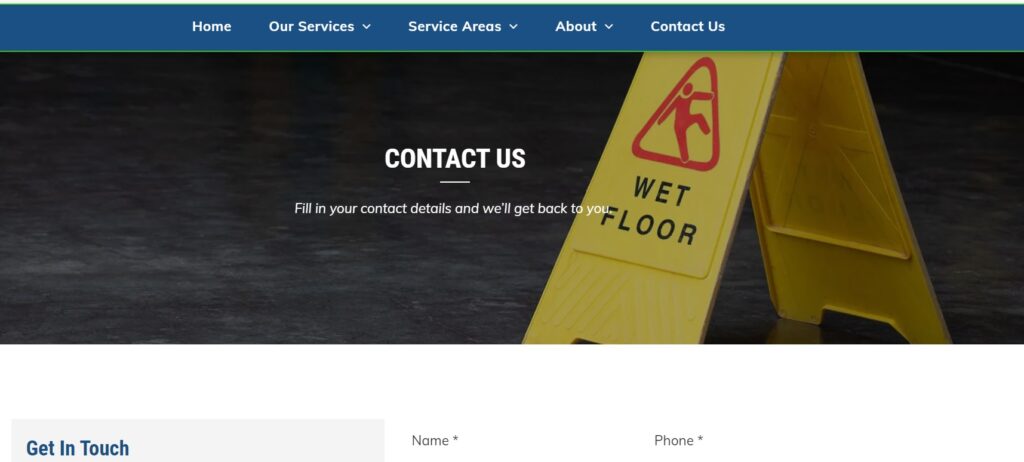 Industry pages are another section you'll want to include on your commercial cleaning website. These industry pages provide several benefits to your commercial cleaning business.
One benefit is that it showcases your expertise in a specific industry. When people come to your website they are going to look to see if you provide the services they need and if you serve their type of business.
If your website doesn't have an industry listed a potential customer is looking for they often think you don't clean their type of business or you aren't experienced in cleaning in their industry. When you do have industry pages it makes your company seem competent and experienced in that industry and people will be more likely to hire you.
Another benefit to industry pages is that they can help increase targeted traffic for your website. Often people will use search terms related to their industry when they are looking to hire a cleaning service. For example, a person may search for things like "school cleaning", "bank cleaning", or "medical facility cleaning", etc.
When you have an industry page optimized for the right terms it can help your website show up when people use terms like the ones above.
Service pages are another must-have type of page on your cleaning company website. These service pages work very similarly to industry pages. Some people are going to use search terms that are related to specific cleaning services. For example, people search for things like, "commercial cleaning services", "janitorial services", "floor polishing", "carpet cleaning services", etc.
Just like with industry pages, if a person comes to your website and doesn't see a page dedicated to a specialty service, they will think you don't offer it or aren't an expert in that service and will likely hire someone else.
Your service pages should highlight the benefits of that specific service, feature photos of your team providing that service, and highlight your processes, and reviews of that service.
Another way to effectively use service pages is to link to them from your industry pages. For example, let's say you have an industry page for school cleaning. Likely those interested in school cleaning will also be interested in floor polishing.
On your school cleaning page, you can link to your floor polishing page to generate additional interest in complimentary services. This also helps further showcase your expertise in that industry and for those related services.
In today's age, most people look at reviews of a company before hiring them. This is no different for your commercial cleaning business. Your commercial cleaning website should include reviews and testimonials from your happy customers.
This can really help to improve conversion rates because it is not just you saying your company is great, it's coming from a 3rd party source. Most people are more likely going to listen to someone who doesn't have a financial benefit from saying good things about your company compared to the company itself.
You should create a dedicated page that highlights reviews on your website. You should also use reviews on your home page, and even specific service and industry-related reviews on those pages.
Another type of review/testimonial you should include on your website is testimonials from your happy employees. A lot of cleaning companies seem to have trouble hiring and keeping their turnover rates low. Having employee testimonials talking about why they like working for your company can go a long way to help attract new employees.
Do you want to attract more local traffic to your cleaning business website? Well, if your answer is yes, then location pages are something you'll want to have on your website.
A location page is rather simple, but it highlights the benefits and features of your services and then mentions a specific city you do business in. You also should talk about and link to relevant aspects of that city you do business in.
For example, if that city has a webpage for the city, link to that page. If there are specific landmarks everyone knows in that city or popular activities people do in that city you could mention that as well.
The idea behind these pages is to let people know you do business in those cities. It will also give signals to search engines that you do business in those cities. When you create location pages like this it can help your website show up when people use search terms like, "commercial cleaning near me" or "commercial cleaning in (city name)".
These pages can help attract your ideal customers to your website and should be one of the foundation types of pages you use.
10. A Blog and Blog Posts
Having a blog is another great way to generate more traffic to your cleaning business website. Most people discount the power of a blog and blog posts for a cleaning business.
Certainly, you want to have the previous types of pages mentioned before creating blog posts as blogs are used to target additional keywords besides those targeted by service and industry pages.
For example, you might create a blog post around the topic of something like, "what should a day porter service cost". Typically people searching for terms like this want to know the cost of a day porter service and usually, that means they are interested in buying such a service.
A blog post like this could attract people to your website and educate them at the same time. When your business provides this kind of content it showcases your expertise. If a person reads your article on day porter services and they decide to hire a company, they will likely hire you.
A commonly overlooked page that you should have on your cleaning company website is an employment page. One thing we see a lot that cleaning companies struggle with is finding and keeping quality staff on hand.
An employment page can help you to attract your ideal employees. This works through SEO and it can help to pre-qualify potential hires as well. There are various ways to advertise for employees, such as Indeed, Facebook, Google Jobs, and more.
Some methods of advertising require a person to specifically search for your job title, such as "cleaning technician", others like Facebook, you can target specific locations and share your job with anyone.
The benefit of an employment page is that it can help by "selling" people on why to work for you. It can also help to weed out those who aren't a good fit.
If you run advertising for employees right to the application, your job looks like any other entry-level job. In today's environment, you really need to give people a reason to work for your company rather than someone else. An employment page can help you do just that.
Overall, understand that there is more to building a successful cleaning company website than just having one. Without the right pages included on your website, won't get all of the benefits of a website.
First and foremost you want to optimize your home page. Then have some basic pages like an about page and contact us page, and of course an estimate request page. Also, include a review page to build credibility through social proof. Review pages and testimonials can help improve conversion rates on your entire website.
After that, you want to include pages that attract new potential customers to your website. These pages include service pages, industry pages, location pages, and blog posts.
As your traffic grows you want to include additional estimate request forms that redirect to thank you pages. Tracking what marketing is working is very important to the success of your cleaning business website.
As your website continues to generate leads and attract new customers, you'll likely need to increase the number of staff within your company. Having an employment page can attract your best hires and can also weed out those who aren't a good fit. Implement these 11 pages on your cleaning company website to maximize its effectiveness.