Top 4 digital marketing strategies for cleaning services
by

Mike MacDonald

February 1, 2021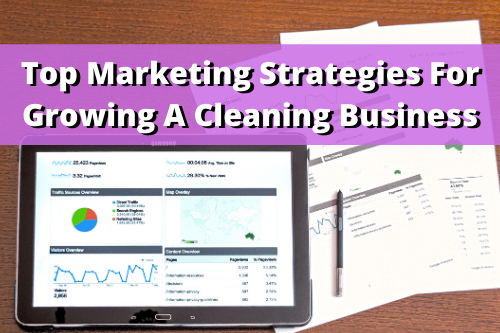 These days there are so many options to market your cleaning business. This makes choosing the best marketing strategies for cleaning services a bit overwhelming. Thankfully there are several base marketing strategies that tend to work well regardless of your location and company size. In this post, you'll learn the top 4 marketing strategies for cleaning services we recommend you should use.
1. Off-site SEO marketing strategies for cleaning companies
If you are just starting your cleaning business, you might not yet have a website. It is possible to start growing your cleaning business without a website, but we recommend getting one as quickly as possible to start optimizing your digital marketing strategy.
One aspect of your cleaning business marketing strategy should include off-site SEO. Off-site SEO can help you get exposure for your cleaning business, that takes place outside of your website.
For example, using a Google My Business page to promote your cleaning business is an essential off-site SEO marketing strategy. By optimizing a Google My Business page it can help you attract targeted leads to your cleaning business. It can also help you rank better in the Google Maps local search.
Another off-site SEO marketing strategy is citation and directory management. Directories and citations are like the online version of the Yellow Pages. In these listings, you'll put information like name, address, and phone number for your business. Doing this citation listing can help build authority for your business online. It can also build quality backlinks to your website, which can improve search ranking.
A final method of off-site SEO you should make a priority is review and reputation management. Review and reputation management focuses on getting positive reviews on sites like Google, Yelp, and other popular review sites.
When your company has lots of positive reviews it can build credibility. In addition to that, it will help improve conversion rates, as well as boost your SEO results.
2. SEO for cleaning companies
In addition to using off-site SEO marketing strategies, you should incorporate on-site SEO strategies as well. These SEO strategies can get a bit technical but thankfully there are some ways to make this optimization process easier.
One strategy is to use an SEO optimization plugin like Yoast. Even with the free version of the Yoast SEO plugin you are given a lot of tools to optimize your website content.
They list a variety of options from optimizing your content for specific keywords, readability, schema, and appearance on social media.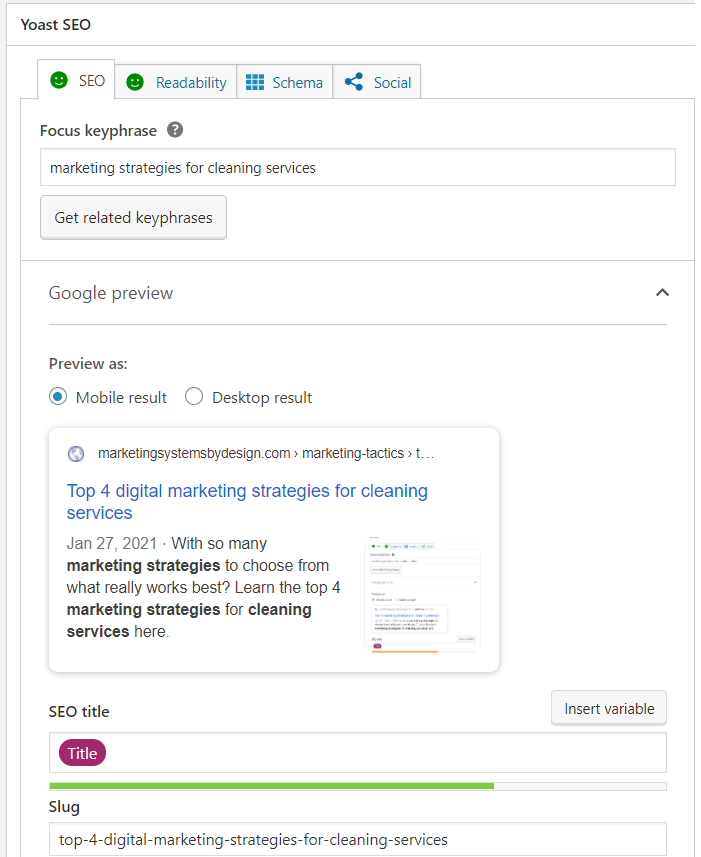 Yoast walks you through having the right title, meta description, alt image tags, outbound and inbound links, and more. It also uses a simple stoplight gauge to tell you what areas you need to optimize in your content.
Having a tool like this can help you to optimize your cleaning company website to attract local traffic through SEO marketing. Be sure to use SEO optimization as one of your core marketing strategies for your cleaning business.
3. Content marketing for cleaning services
Content marketing is another one of the key marketing strategies for cleaning companies you should be implementing. Another thing to understand is that content marketing works in conjunction with onsite SEO.
When you create content on your website, you want it to be educational and valuable to potential customers. This will help you establish your authority in the niche.
Make your content value-based while also optimizing for SEO. By creating content it can attract new visitors to your site, build trust, and improve conversions.
The first area of content you should focus on improving is your home page. Make sure that your home page is focused on your core difference. This means how you help people better than the competition. Some other aspects to include are trust builders like real employee photos and showcasing positive reviews. Also focus on highlighting the benefits of your cleaning services, not just the features.
The next aspects you should build on your website is related to your services, service area, and industries you serve. By creating industry pages, service pages, and service area pages, you can attract targeted visitors to your website. It can also help you showcase your expertise in each service and industry.
Location pages bring people to your site that are looking for cleaning services in their area. This can help attract people searching with terms like "cleaning services near me", "janitorial services in XYZ city". You can also link these pages to your industry and service pages to associate those services with a specific location.
People want to know you can provide a solution to their problems and have what they are looking for. By utilizing content marketing, you can showcase you have what customers want from a cleaning company.
4. Paid advertising as a marketing strategy for cleaning businesses
Most digital marketing strategies do not create results quickly. For example, a content marketing strategy and SEO strategy may take several months to reach their full potential.
However, these organic traffic marketing strategies can't be ignored. Content marketing, off-site SEO, and on-site SEO can build a long-term foundation for passive leads and sales.
At the same time, by running paid ads, you can see results faster than organic traffic alone. With paid advertising, it can help you get quick results while the long-term strategies start to take effect.
There are several forms of paid advertising you can utilize for promoting your cleaning business. There are two main categories that work well for cleaning businesses. Facebook advertising and the various forms of Google ads or PPC advertising.
Typically we recommend using Facebook advertising for residential cleaning or to advertise services like carpet cleaning. Google Ads can work for any type of cleaning business. However, they also have a feature called Google Guarantee ads which work well for residential cleaning companies.
Facebook advertising for residential cleaning services
Now when it comes to Facebook advertising we suggest promoting a residential cleaning service with it. This is because it typically involves a smaller transaction amount. Also, the sales cycle is much shorter with hiring a house cleaning service compared to a commercial cleaning service.
Another reason to advertise on Facebook is that your ad spend budget typically doesn't need to be as high. With Google ads, you may need a budget of $1000 per month or more to be competitive.
With Facebook advertising, you can start with as little as $150 a month in ad spend and see results. We do, however, suggest starting in the range of $300-$400 a month. With a budget this size, you are likely to see the most benefit and can optimize your ads faster.
With Facebook advertising, you can upload your existing customer list and build lookalike audiences from those lists. Typically people use their personal email address for residential cleaning services, while commercial accounts use a business address.
For this reason, you might not be able to as effectively build lookalike audiences to market commercial cleaning. At the same time, you can promote commercial cleaning and build other types of lookalike audiences. However, these strategies often take more time to implement and require a larger ad spend budget to see results.
Another difference worth mentioning is that with Facebook advertising people aren't actively searching for cleaning services. The good news is you can target the people who are likely to be interested. Unfortunately, it may require more sales effort to convert them. This could lead to lower conversion rates on Facebook compared to Google where people are actively searching.
PPC advertising and Google Ads for cleaning companies
PPC advertising, or advertising on Google, is another marketing strategy we recommend. If you have the budget to advertise while optimizing your other marketing strategies this is the best option.
Typically we recommend combining both an organic strategy and paid advertising strategy as they balance each other out. Also, if your website isn't optimized it doesn't really make sense to drive additional traffic to it. A website that reflects poorly on your company image or that doesn't convert isn't something you want to advertise.
The great thing about PPC advertising and Google Ads is that it is very targeted. With Google Ads, you are running ads for people that are searching for specific keyword terms. This means that you can put your advertisement directly in front of people who have a high likelihood of buying.
Usually, this also means that these leads have a higher chance of converting. At the same time, this doesn't mean you can ignore the sales and follow-up process. However, it is likely an easier sell than someone who isn't actively searching for hiring a cleaning service.
PPC advertising can generate results more quickly than a passive organic strategy, but there is still an optimization process involved. Also, if you are trying to manage a Google Ads campaign yourself it can be very complex. Tying this on your own may lead to an excessive waste of money on your learning curve.
Instead of spending your profits on trial and error we usually recommend you hire an advertising expert or marketing agency to manage this aspect of your marketing.
The bottom line is a digital marketing strategy is not something you can ignore. If you want to have a competitive cleaning business today using digital marketing strategies is essential. Even if you have an established cleaning business, neglecting your online marketing strategy is a big mistake. Doing so can lead to smaller competitors taking away market share.
Start with building an off-site SEO presence by creating and optimizing a Google My Business page. After that set up a citation and directory listing campaign. From there, maintain a positive reputation and focus on getting more reviews from your customers. As you do this it will help to build social proof and credibility.
The next few marketing strategies you want to set up are content marketing and on-site SEO optimization. These two marketing strategies can help drive targeted visitors to your website and build credibility in your company.
With your base foundation of organic traffic based marketing in place, you can then move on to paid advertising. We recommend a combo of both passive marketing and paid advertising. Do this to create a balance in terms of speed of results and creating a steady flow of organic traffic.
Implement these marketing strategies and you'll have a steady flow of new traffic and leads for your cleaning business.